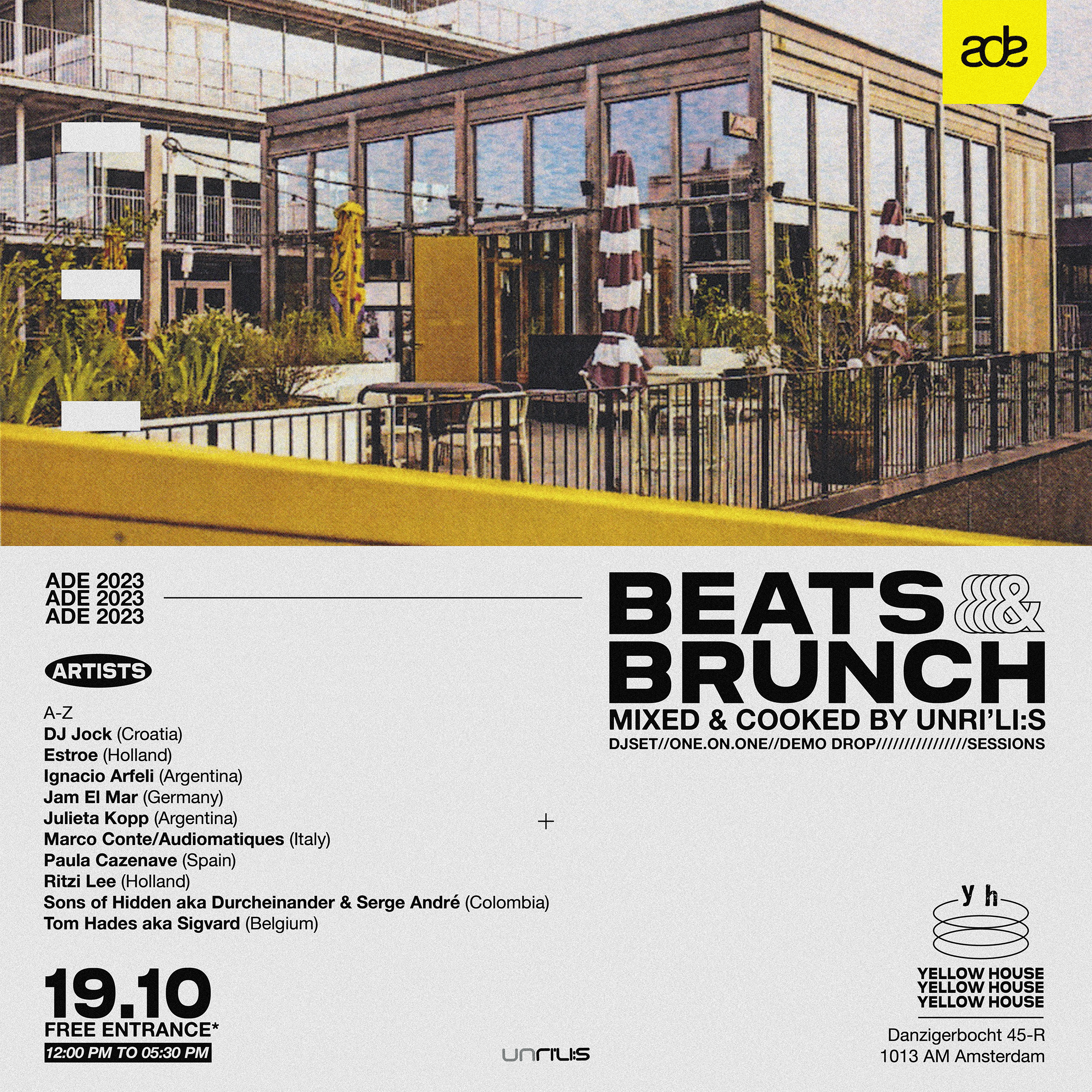 ADE 2023 Beats & Brunch: Mixed & Cooked by Unrilis
Unrilis is an pioneer Italian record label, and we welcome fans for a beats and brunch afternoon at Amsterdam Dance Event 2023. You can meet some of the techno artists from our roster and get advice from members of our team, while also having a dance to some amazing DJ sets.
It's free to attend, but due to the limited capacity of the venue, you need to register via Eventbrite to be guaranteed entry and 15% discount on the first drink. There will be DJ sets from artists including DJ Jock (Croatia), Estroe (Holland), Ignacio Arfeli (Argentina), Jam El Mar (Germany), Julieta Kopp (Argentina), Marco Conte/Audiomatiques (Italy), Paula Cazenave (Spain), Ritzi Lee (Holland), Sons of Hidden aka Durcheinander & Serge André (Columbia), Tom Hades (Belgium).
DJs playing at the event will be staying to socialise and share their knowledge with attendees before and after their set, and via info@looseclub.com it's also possible to book a ONE-ON-ONE chat with some of the DJs playing at the event. So, this is a great opportunity to chat with the likes of Jam El Mar, Ritzi Lee and Paula Cazenave etc.
There will also be a DEMO DROP where aspiring and experienced producers can book a 15-minute one-on-one session with one of our A&R team. This is the perfect chance to get honest feedback from industry professionals or perhaps even get signed to Unrilis, as we are always on the hunt for fresh talent. You can also book industry focused chats about topics such as music rights, royalties and label management.
Launched over two decades ago by our good friend Rino Cerrone, Unrilis is a highly influential record label that has played a pivotal role in the careers of artists ranging from Joseph Capriati to Enrico Sangiuliano. Not only does the imprint nurture fresh talent, it also supports the legacy of iconic veterans who have been influential within the techno genre.
We advise that people planning to attend arrive early due to small capacity of the venue.
We look forward to have you join us in Amsterdam, especially if you are a DJ or producer looking to get tips and advice about the electronic music industry.