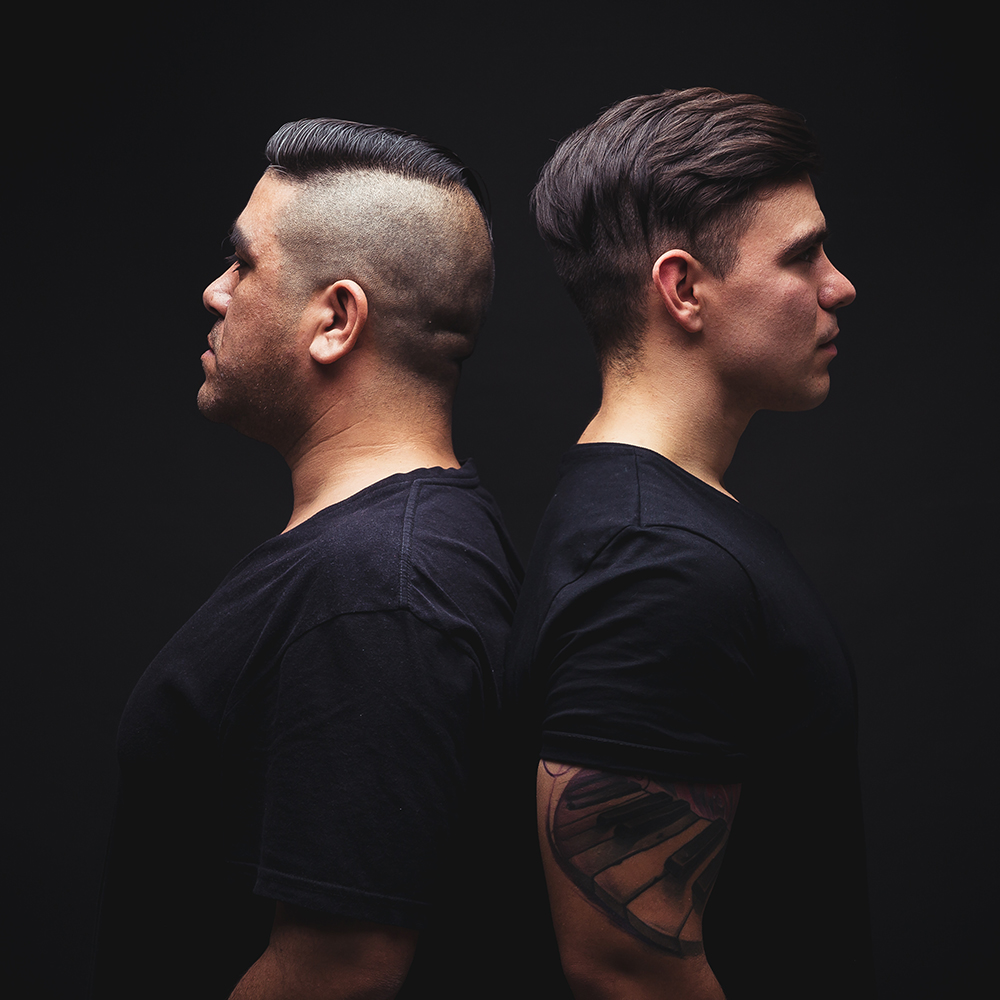 FUSSION, is formed from the musical tastes of two great artists, such as Jonatan Chiappa and Julio Oyola, where they sought electronic music, darkness and joy, in a rhythm full of Groove, for what they find in minimal, tech house and techno, a range of possibilities to create a festive atmosphere in its performances.
From the birth of the genre of electronic music, they were growing and mutating each other sharing the characteristics of each, to form a new style, a different way of reaching the feelings of people who heard those sounds.
Fussion are about to Release their Proteo EP in Collab With Drigo On Loose Records. So we took the chance to ask Them Some Questions and here what they said.
First tell us how life is during Quarantine and how you keep yourself busy?
Well, we speak for both of us (we are a duo) and we have the same experiences during quarantine. Our lives did not change much, we are still focused on music, but also, we focused on reinventing ourselves and we were modifying our way of showing ourselves to our audience. Modify our studio to be able to perform livestream and continue playing the music you like, so as not to miss our audience so much
What drew you to the music industry, how did your career begin ? How Did You Guys Meet ?

We like music from a very young age. We met in the music industry with Jonatan (Julio speaking) and there we started to produce and try playing together in some clubs, and the chemistry was very good. We were browsing various styles until we found our place in techno, and that's why we ran into you and well now it's a pleasure to be able to sign this EP on your label
Who are your favorite artists and how do they inspire you?
Fussion at birth of different marked styles, it has variants between the groove of tech house, the harmony of trance, and the darkness of techno. That is why they find artists like Stephan Bodzin, Carl Cox, Boris Brejcha, Wehbba, Pleasurekraft, Hot since 82, Ki Creighton, Elay Lazutkin. Many sounds that make us play in each session.
Tell us about your EP "Proteo"? How did you come up with the Title? What inspired you to make the EP?
Together with our colleague and friend Drigo, we have worked a lot and we are in the same tune to be able to capture those very melodic sounds. The idea arises one day eating "tacos" with Rodrigo! Remembering that trance music from 2003/04, remembering those chords, pads, and sequences. It was there when we thought we could work on an album that has those sounds, without losing the groove that the track needs. We immediately went to work.
How would you describe the music that you typically make?
Above all, we believe that it is authentic, crazy. Since when we sit down to make music, we are guided by the senses. It is very likely that we cannot make 2 songs that are similar if you want.
According to Fussion, what's the most Important Quality of a DJ?
For us the most important quality is to be patient and know that with effort everything comes. Never give up and study, are the keys to reaching your goal
How do you see Techno in 10 Years from Now?
Techno in 10 years, will continue to surprise, will continue to mutate and settle, as it did throughout its existence. With its walls and firm foundations, but always sounding contemporary
Where do you see Fussion in 10 Years and what do we expect from you in the Future?
Fussion in 10 years, will sound and we will be present around the world, touring countries that we can not imagine. And from us what you can expect, is more fusion of sounds for the delight of the listeners, we know that we have no roof, therefore we will continue to grow as people and as artists