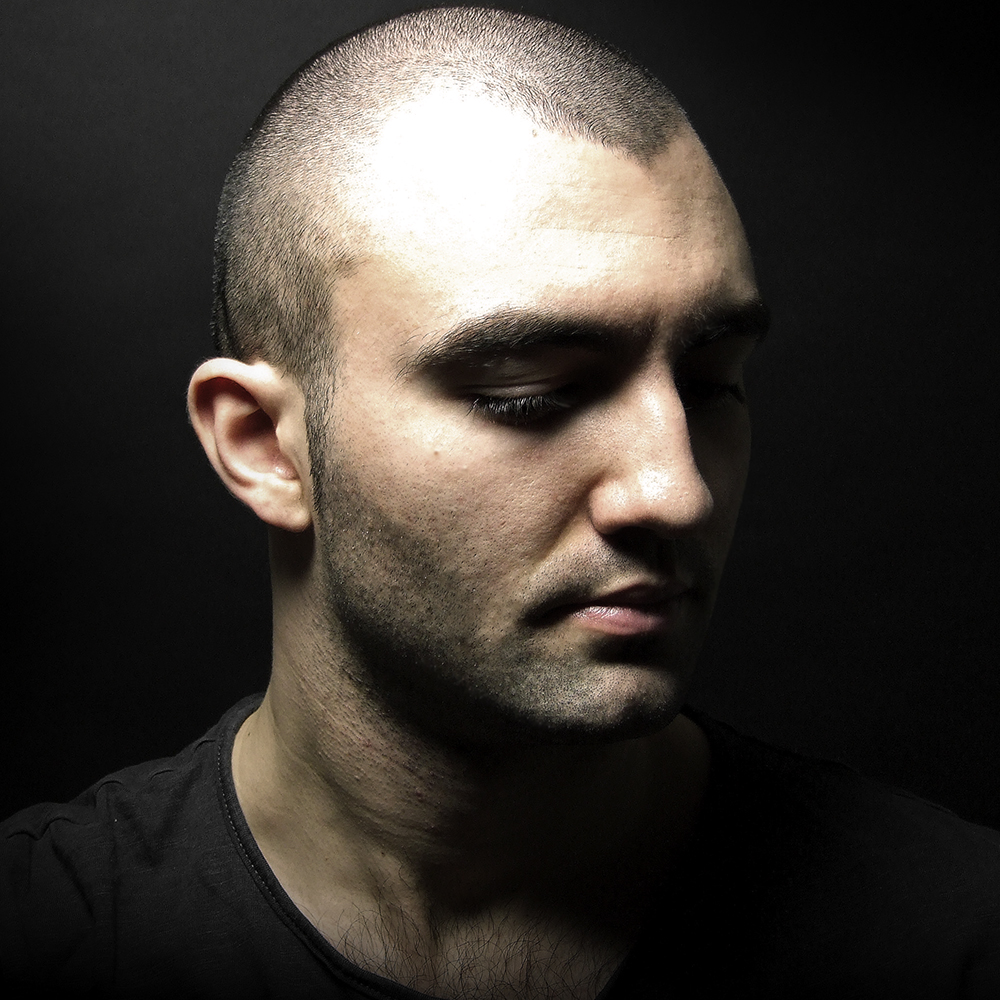 London-based artist Paride Saraceni undoubtedly is one outstanding rising name in the Techno and House scene.
dynamic, chunky and cinematic, His Music regularly receives the support and appreciation of the Techno and House industry's leading icons.
A New Chapter For Paride as he is set to Release his EP "Empty Soul" On Our Label Unrilis, So we took the chance to ask Him Some Questions and here what he said.
First tell us how you keep yourself busy during the Quarantine Period ?
Hi, thank you for having me here,

I am taking the chance to make new music, learn new things including how to play the Piano which is something I was looking forward to learn for a while among other things.
What drew you to the music industry, how did your career begin (When was the exact moment you felt like it's time to be a full time Artist and DJ?)
I have always been at university while making music or working in an office, while I am now on a break from the office I am very committed to embrace the full-time artist as soon as it becomes possible. However it all started when I was around 16 and discovered club life, and the power of music in bringing people together, as well as how sound can influence us in many different ways.

I have ever since been attracted to music and in the way it allows ideas to come to a shape in a much more immediate way than other art forms.

Who are your favorite artists and how Do they inspire you?
There are a lot of artists who contributed to my growth and inpiration, while i could name you a number of them in the 'Techno' scene I would like to mention, artists such as Kollektiv Turmstrasse, Audiofly, Mario Basanov/Ten Walls, Akira Yamaoka, Magma (French band) The Doors, Sigur Ros and Moby, which I drew most of my musical inspirations from and I find their music of absolute quality and emotional depth. I also drew inspiration from Architectural and filmic concepts, works by Architects Mies Van Der Rohe (Well known for his 'Less Is More' quote) and Bernard Tschumi and film maker Stanley Kubrick explore technicalities that I find of great inspiration when it comes to sequencing and creating conceptual depth to a storyline composition as well as in mixinxg and psychoacoustic notions related to narrative.
Last Year, you Released 2 Eps and It's been Almost 1 year since your last EP "Black Mamba" on Redrum Music, why it took you so long to release New Music, were you Working on New Projects?
I was working on a new project called What If together with a friend of mine from Italy, the project found major appreciation from Tale Of Us and the Afterlife scene. It took me a while to convince myself to release a new Paride Saraceni EP as through new experimentations I started becoming more aware of the wider scene and that there is very little innovation in the 'strictly techno' scene i became part of as well as, of course, in my work, which in my opinion had become extremely commercial and predictable and where its plot has become an endless loop of abstract sounds that aren't really telling any story anymore. Of course this is just my view of it.

I took a while to put this EP together as I was never satisfied with it (and probably I'm still not as it usually happens) yet the aim was to purposely embrace my more 'Techno' influences and put together a 'Techno' EP and to do conform within the 'mainstream' techno realm sound-wise (which I am normally quite against) while at the same time introducing some aspects of myself that I would normally express in a softer more melodic type of sound. I also wanted to 'annoy' people with a long break in Empty Soul since long breaks are very much hated in the Techno realm somehow, and I think I could have stressed that even more, (yet I guess this gives space to execute more radical approaches in the future). I believe 'we' and 'Techno' need some injections of extravagance and incongruence that may even keep you on hold wondering from time to time.
Tell us about your EP "Empty Soul"? How did you come up with the Title? What inspired you to make the EP?
I think Black Mamba was a surprise kind of track from me (at least it was to me when I finished it) and technically also something I felt 'fresh' for myself at least. I thought this EP could have been a good follow up to that given I had stepped into a slightly rougher and freeform sound. All three tracks were made two years ago and at the time I had in mind the Drumcode event I had been involved a while earlier in Barcelona. However, with time I added and removed things from the tracks so they became a product of an intense and overly elaborated ping-pong of experimentation and influences that I was developing through the other alias. Needless to say I became very frustrated to the point that I narrowed my choice down to the first initial ideas and to also accept 'that moment' as well as its imperfections, which are always part of us anyway.

'Empty Soul' as a title was chosen as both a musical void that I perceived in myself for a while when I realised that I needed a change as well as towards the Techno scene, which as I mentioned earlier, I felt it might had lost its soul or its story in favour of play counts and algorithm spins, well in fact, in favour of technology itself. Or has it ever been that way? Perhaps we could also read it that maybe Techno (and the world's Technological development) have never really taken human feelings into account to begin with. This EP probably represent the most Current 'Techno' I could have ever been, given it is not a sound form I particularly admire or reflect myself in, yet it is part of me and my past in many ways so it had to be expressed somehow, some when.
How would you describe the music that you typically make?
I would say that regardless of genre, it's often dramatic, possibly cinematic at times and quite romantic often in a twisted or darkish way.

I think it's a direct reflection of my personality and feelings, which I understand for many may be hard to predict or understand.

I strictly do not believe in genres and in the way we tend to categorise music, instead, I believe in 'moods'. Certain sounds and even rhythms can give off specific moods and the same goes for the melodies, and as an artist I always try to let my 'mood' speak out first, and then I try to find the best technical representation for it, be it more techno or more house or neither of them as a groove that depends on the idea and direction i feel about it, the beat is just a 'tool'  to make an idea danceable and structurable and often mixing parameters up leads to innovative combinations.

How do you see Techno in 10 Years from Now?
I think Current Techno is now living a great moment of exaggerated hype yet in my view based on a somewhat nostalgia of the 90's raves, hence a lot of acid as well.

I also think that 'Techno' has become a kind of slave of its own imprint, tied down to a very specific soundtype, contrary to its more experimental and open-ended origins.

In my view 'Real Techno' died many years ago. It died the moment we introduced it into a market where copy-paste became the norm and sounds are no longer direct results of technological advance but of what most relevant label is putting out which eventually gets emulated. If you ask me who are the most innovative Techno artists right now I would point out to Flume (Future Bass) is probably one of them given the amount of new sounds and ideas which are results of a great deal of innovation, and the now called 'Melodic Techno' / Afterlife and Innervisions scene are to me some of the most innovative sections of the electronic music spectrum right now as they have shown a great deal of rejection of the 'norms' and boundaries that are still very strict and limiting in other scenes, including what we call 'Techno' scene.

I also think that actual new synthesis/sounds are coming out of there more than anywhere else, if we think of artists like Innellea, Colyn, Ditian for example, I can observe a great deal of innovation and originality even if it comes from sounds we are familiar with, yet the innovation can be found in their application and manipulation. For me there is more 'Techno-ness' in these 'deeper/slower' music than in 'Techno' per se. (Colyn's LFO Synths have been emulated throughout the industry by now or Innellea's FM methods appeared throughout the Techno scene too). Artists like Caribou, Bicep and lately MatHame have been daring with simple rhythmic strategies which however opened our eyes to possibilities we could have always accessed but that most of us were too scared to approach.  The moment I started exploring other scenes more thoroughly it became apparent to me that what we call 'Techno' is actually often importing innovations that already happened already elsewhere. To conclude the point, I think that 'Techno' as we are now used to call it may soon become outdated to many and focus will gravitate towards new forms of musical innovations, if that will be embraced by 'Techno' I don't know, I think a lot of artists are embracing changes and more diversity, Enrico Sangiuliano is surely one of them as his music hints out to genres far beyond the Techno sensorium,  into Dubstep, Pop and Future Bass, while still remaining four-to-the floor, which i think pushes the envelope.  I can also envision a great deal of VR and AR in the future of electronic music and clubbing and I have been on the path to work on this subject since 2018.
Where do you see Paride in 10 Years and what do we expect from you in the Future?
I'd like to see myself presenting my own events, promoting innovative and immersive experiences in relation to music and other art-forms which connect and foster our perceptions and enrich us about life and of ourselves. I am keen on employing my Architectural skills in favour of music events development, some of which in my view will look and feel very different and much more complete than now, in terms of sonic, contextual experiencing connectivity and interaction. Of course I'd love this to go hand in hand with the sonic development for I of course also aim to have reached that point via a solid stream of possibly inventive and innovative musical works and concepts. There is a lot of work to be done!